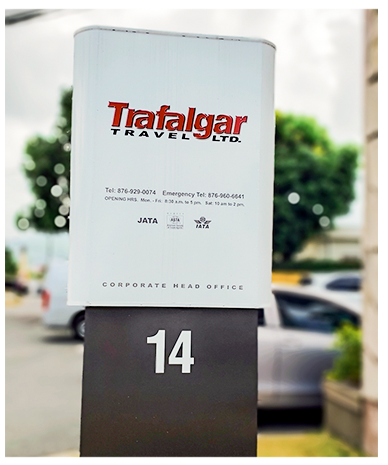 Trafalgar Travel Ltd. was founded in 1995 and has been voted the "Caribbean's Leading Travel Agency" by the World Travel Awards since 2007. We are guided by our mission: "Quality Service, Quality Relationships".
Our office is headquartered in Kingston, Jamaica, with branches across the island. Trafalgar is a Jamaican-owned business with a global reach.
We are a full-service travel management company for leisure and corporate customers. Over the years, we have established strong relationships with our suppliers and are able to offer specially negotiated rates as a result.
Our agents have a wealth of knowledge in the industry, and possess diverse skill sets that work in tandem to satisfy our customers' needs. More than a company, our staff members are a part of the Trafalgar family.
Our Awards

Voted the "Caribbean's Leading Travel Agency" by the World Travel Awards since 2007
Frequently Asked Questions
Head Office Address
14 Garelli Avenue,
Kingston 10, Kingston
Call Us
(876) 929 0074
(876) 929 1502 (Fax)
Email Us
social@thetrafalgartravel.com
Working Hours
Mon - Fri: 9AM to 5PM
Spanish Town:
Shop 23, St Jago Shopping Centre
876 984 2762/3604
May Pen:
48-50 Main Street
876 986 4946/7
Mandeville:
22A Ward Avenue
876 961 6838
Ocho Rios:
Shop 69, Ocean Village Shopping Centre
Main Street
876 974 5036, 876 974 5108
Montego Bay:
Shop 3, Heritage Mall
34 St. James Street
876 952 5140
Savanna-la-Mar:
118 Great George Street
876 918 0100
Portland:
City Centre Plaza
28 Harbour Street
Port Antonio
876 993 2645
Falmouth:
Shop 7, Meadows Business Centre
61 Market Street
Trelawny
876 993 2645
White River:
Shop 16, White River North
Lot 2B, White River
St. Ann
876 993 2645